NAPA Volunteer Of The Year Award
At a spring 2016 NAPA Governing Council meeting, discussion was finalized on creating a new NAPA Volunteer of the Year award. Nominees are put forward and voted on by committee chairs and elected officials (Governing Council members are not eligible for nomination), based on the volunteer's length, depth, and quality of service. Volunteers typically serve on one of NAPA's many committees; their unheralded efforts often go unseen by the membership as a whole.
NAPA is wholly reliant on volunteer efforts to run the organization (with some AAA support). The Volunteer of the Year award is presented as part of the AAA annual meetings, during the NAPA Business Meeting, typically held on a Friday evening.


Volunteer Of The Year Awardees
Interviews of award recipients are listed below, with the most recent year first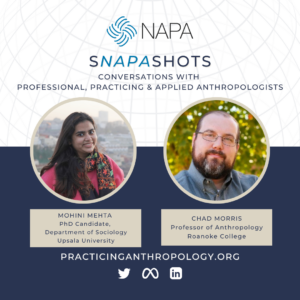 We have two exciting episodes in store for viewers this month, as we begin Season Two of sNAPAshots and NAPA's 40th year! Hear from Mohini
Read More »